Galaxy on Fire 2



Release Date

February 2009

Price (Full HD)

7,99 $ - Steam

9,99 $ - Mac App Store

Price (HD)

Free - Play Market/App Store

Follows

Predates
Galaxy on Fire 2 is the second game set in the Galaxy on Fire universe, and takes place thirty-five years after GoF3D. The game originally launched on J2ME devices back in 2005, and was later ported to iOS in 2009.
The series' protagonist, Keith T. Maxwell, is shot thirty-five years into the future by a hyperdrive malfunction, caused during a pirate ambush. After some time, an ore trader named Gunant Breh finds Maxwell's crippled ship drifting in space and brings it to the Var Hastra mining station. The player learns to use the main features of GoF2, including outfitting a ship, mining, and fighting pirates. After completing the tutorial, the player is given Gunant's old ship, Betty, and taken to Terran territory by a Terran convoy. There, the player learns of the Void Threat and battles them throughout the rest of the storyline, eventually destroying their capability to launch attacks in the galaxy.

Galaxy on Fire 2 has numerous improvements over its predecessor, Galaxy on Fire 3D - most notably in its more extensive campaign and trading system; along with its addition of new weapons and equipment, additional mission types, and hidden systems and blueprints. The player is also able to fly their ship through the game universe even when not on a mission, giving Galaxy on Fire 2 a much more immersive and interactive game experience.
The sequel also has 4 different difficulties: Easy, Normal, Hard and Extreme. Easy is only available in iOS SD and PC/Mac Full HD.
As of 2017, Galaxy on Fire 2 SD is no longer available to purchase.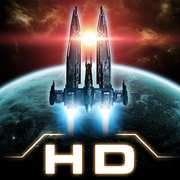 Galaxy on Fire 2 HD
is a new alternate version of
Galaxy on Fire 2
, developed specifically for the iPad 2 and up, iPhone 4S and up, and iPod Touch 5th Generation and up. The entire game is remodeled with stunning high-resolution 2048x2048 graphics, and includes support for Retina devices. New lighting, OpenGL, shading, and special effects have also been added which give the game more in-depth realism compared to SD. The app icon also has improved resolution to reflect the changes.
Because of its excessive use of High-Definition, Galaxy on Fire 2 HD often crashes for devices older than the iPad 2, iPhone 4S, and iPod Touch 5.
In one of the trailers, the Phantom is shown floating around disabled in Dareius, not Var Hastra.
As of 2020, this is the only fully functional version of GoF2.
Galaxy on Fire 2 Full HD is one of the alternate versions of Galaxy on Fire 2. It features improved resolution and enhanced textures. It was first released in August 2011 for Macintosh Computers, followed one year later by a release for Windows PCs.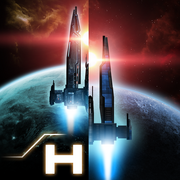 The game was originally released on the J2ME (Java) platform in 2005. According to former CEO Michael Schade, the codebase from Java all the way to Full HD is essentially identical.
Before it was removed, GoF2 SD was extremely broken. There was no vocal or musical audio, and the dialogue boxes skipped past so fast that it was impossible to read or even hear anything. This was never fixed, unfortunately. HD still works fine.
Galaxy on Fire 2 has 2 Add-ons: Valkyrie and Supernova. They can be bought via in-app-purchase on Android and iOS.
The Steam version does not include these addons, and the Loma and Shima systems are also not included either.
In fact, the Steam version runs a very old patch of the game which still features the player's ship suddenly veering away from any station or battleship.
The iOS Lite version ran SD patch 1.1.3 and was removed form the App Store in 2013. It is still possible to download if previously purchased. (32-bit devices only).
The macOS version can no longer be opened after macOS High Seirra. Attempting to do so causes the app to get stuck in a verification loop.
The name of the Galaxy in GoF2 is never mentioned; however, Thadellonius Moonsprocket mentions "The Silky Way", which could suggest this is the galaxy's name. This is unconfirmed.
The races in Galaxy on Fire 2 are similar in Star Trek: with the Terrans representing the Federation; the Vossk as Klingons; the Midorians as Maquis; the Void as the Borg; and the Bobolans as the Ferengi.
After Keith T. Maxwell fights the pirates, he plans to return to Eden Prime. During the rest of the game and the DLC, Eden Prime is never mentioned again or seen as a planet.
Prices for commodities, blueprints and tractor beams are prohibitively expensive on Android releases of the game.
As of August 21st 2020, Galaxy on Fire 2 HD is now the only game in the franchise still available for download
Community content is available under
CC-BY-SA
unless otherwise noted.