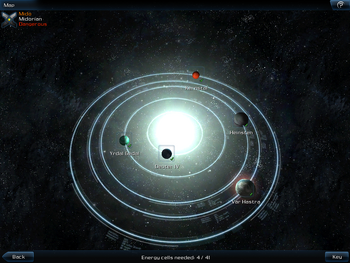 Not to be confused with the faction of the same name.
Mido is a system controlled by the Mido Confederation , and is believed to be their central system, as the Mido system is the origin of the Midorians. The alcoholic beverage Mido Distillate can be obtained here.
The system can only be reached by using a Khador Drive with a cost of 4 Energy Cells (regardless of your starting point). It is where you start out in the game, and is somewhat of a "tutorial system" where new players learn the basics of the game.
Mido is the only known system to have the lowest of all Tech Levels. But you can buy Average-Class Midorian ships here. (Deuter IV and Var Hastra are the best places to look)