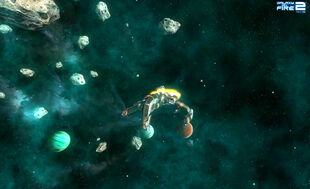 Spoiler Alert!
This article contains plot details about Galaxy on Fire.
This is mission 3 of the Galaxy on Fire 2 Walkthrough
The third mission in the main storyline is pretty easy. Gunant will ask if you can kill some pirates, and he will grant you access to the hangar. Equip one of the two primary weapons and the E2 Exoclad armor. Then leave the station, and follow the waypoints. Pirates will begin to surge, so prepare yourself to shoot. There are only 3 or 4 pirates so it should be easy, Gunant will also shoot at the pirates but be prepared to do most of the fighting. When Gunant tells you, return to the station.
Tips and Tricks
Edit