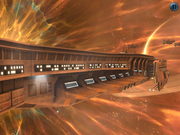 Spoiler Alert!
This article contains plot details about Galaxy on Fire.
First | Previous | Next | Last
Evacuation of Ginoya: Part 3
Terran Carrier at Tadram
As Keith arrives at Alioth, he is greeted by a stealth fighter attack. Suspicious, he docks at the station. He informs Snocom that Harval seemed to be preoccupied, and was surprised that he destroyed some stealth fighters. Snocom thinks that he was entranced by Keith's charisma, but Keith believes that there is something more.
The subject of their conversation changes to evacuating the Midorians. Evacuation efforts are taking place at Tadram, but the dropships need protection against the stealth fighters. Keith volunteers immediately, knowing that the alternative is going home to Carla and picking out curtains. Thankful, Snocom grants Keith a repair beam to patch up the dropships during the evacuation.
A Terran Officer greets Keith as he arrives at Tadram. Nearly 2000 people need evacuating, and the dropships will ferry them to a Terran Carrier.
The Carrier will depart to safety once everyone is on board. Before jumping out of Ginoya, Carla managed to make contact with Keith. She asks him to come back to Thynome, where Deep Science has worked out a plan to reverse the supernova. She also asks for feedback on curtains as well.