Not to be confused with GoF3D's Valkyrie, planet, or station of the same name.
Galaxy on Fire 2: Valkyrie is the first add-on released in April 2011 for iOS devices. Conflict in the storyline revolves around Keith's actions undertaking lucrative and dangerous jobs from the mysterious Alice. New content of nearly every kind is included with this add-on.
Description
Edit
Valkyrie was released on April 28, 2011. Some users may not have see the actual update, but were instead asked to pay for the app again. However, as explained by Fishlabs CEO in this thread, all one has to do is to click 'Buy Now', and a message will pop up explaining that one has already purchased the app, and the download will commence.
On February 23, 2011, Fishlabs announced the upcoming Galaxy on Fire 2 add-on called Valkyrie. The story line is only available after the main story is complete. It is a direct add on to GOF2 and is part of the story. Several new weapons and ships are available.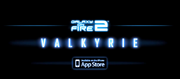 On March 07, 2012 Valkyrie was released for the Galaxy on Fire 2 HD version of the game with a Full HD (Mac/Windows) release to follow.
On May 16, 2012 the add-on was released for Mac Full HD.
Following the events of Galaxy on Fire 2, the heroic Keith T. Maxwell is contacted by an agent named Cornelius Tenner, with a dangerous but lucrative assignment. Keith, unable to resist the profit, accepts the assignment, and accepts many more from him and his employer, Alice, who operates a space station in a distant star system. As the jobs he undertakes become more dangerous, he rethinks his actions when Deep Science becomes involved in them.
New Features
Edit
New storyline
New ships, including two from the Vossk Empire
New systems and planets
New weapons and equipment: a device that slows down time near the player's ship, an emergency shield, mines, player-controlled missiles, automatic turrets, and weapon modifiers.
New items: signatures, they make every scanner believe its owner belongs to the signature's faction.
New characters: Cornelius Tenner, Mekant Orskk, Taret Orskk, Alice, Netor and Trot Lykkt